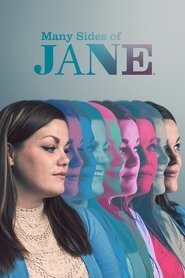 Many Sides of Jane
A woman with Dissociative Identity Disorder works to understand her illness, while balancing life as a mother of two, and her doctoral studies.
Eps5
Vanity Fair
Vanity Fair
In a world where everyone is striving for what is not worth having, no-one is more determined to climb to the heights of English Society than Miss Rebecca Sharp.
Status: In Production
Eps36
Finding Carter
Finding Carter
A teenager finds out she was abducted as a toddler and returns to her biological family.
Status: Canceled
Eps6
Wild Wild Country
Wild Wild Country
When a controversial cult leader builds a utopian city in the Oregon desert, conflict with the locals escalates into a national scandal.
Status: Ended
Eps60
The Wire
The Wire
Told from the points of view of both the Baltimore homicide and narcotics detectives and their targets, the series captures a universe in which the national war on drugs has…
Status: Ended
Eps2
Bite Club
Bite Club
Two detectives who survive a shark attack, join forces to hunt a serial killer that is also hunting them.
Status: Returning Series
Eps3
Ill Behaviour
Ill Behaviour
Comedy thriller about three friends who embark on a journey that takes them to the extremes of their friendship, crossing every boundary imaginable to save a life.
Status: Ended
All American
All American
When a rising high school football player from South Central L.A. is recruited to play for Beverly Hills High, the wins, losses and struggles of two families from vastly different…
Status: Returning Series
Fam
Fam
Fed up with her father, a woman moves in with her older half-sister, and her fiancé.
Status: Returning Series
Eps36
Billions
Billions
A complex drama about power politics in the world of New York high finance. Shrewd, savvy U.S. Attorney Chuck Rhoades and the brilliant, ambitious hedge fund king Bobby "Axe" Axelrod…
Status: Returning Series
Sorry For Your Loss
Sorry For Your Loss
The sudden death of her husband upends and transforms every relationship in Leigh Shaw's life. It also forces her to realize there was a lot about her husband that she…
Status: Returning Series
Eps6
Magic for Humans
Magic for Humans
From baffling people on the street to orchestrating elaborate tricks, Justin Willman blends good-natured magic with grown-up laughs.
Status: Returning Series
Eps11
Second Chance
Second Chance
A disgraced, 75-year-old ex-sheriff, whose life ends at the hands of corrupt cops, is brought back to life and given a second chance by a pair of young tech scientists,…
Status: Canceled