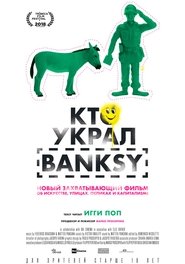 The Man Who Stole Banksy
In 2007, the anonymous graffiti artist Banksy painted a series of political works around Palestine, only to have them cut down and sold off to the highest bidder. A stylish examination of public space and the commodification of street art, narrated by Iggy Pop.
Duration: 93 min
Release: 2018
Do Not Resist
Do Not Resist
Do Not Resist is an exploration of the rapid militarization of the police in the United States. Opening on startling on-the-scene footage in Ferguson, Missouri, the film then broadens its…
Reincarnated
Reincarnated
Evolution as an artist is often times what separates legends from the more mundane. After being heavily influenced by his experience in Jamaica – and his subsequent name change from…
Woodstock
Woodstock
An intimate look at the Woodstock Music & Art Festival held in Bethel, NY in 1969, from preparation through cleanup, with historic access to insiders, blistering concert footage, and portraits…
Trapped
Trapped
From 2011 to 2013, hundreds of regulations were passed restricting access to abortion in America. Reproductive rights advocates refer to these as "TRAP" laws, or Targeted Regulations of Abortion Providers….
Say Her Name: The Life and Death of Sandra Bland
Say Her Name: The Life and Death of Sandra Bland
Sandra Bland was a bright, energetic activist whose life was cut short when a traffic stop resulted in a mysterious jail cell death just three days later.
Yearning
Yearning
A European director is commissioned to make a documentary about Istanbul. He starts to film its everyday life – but soon becomes drawn to the darker, more mysterious side of…
Miss Sharon Jones!
Miss Sharon Jones!
Portrait of the singer and her year-long battle with cancer.
Alive Inside
Alive Inside
Five million Americans suffer from Alzheimer's disease and dementia—many of them alone in nursing homes. A man with a simple idea discovers that songs embedded deep in memory can ease…
The Force
The Force
The Force presents a cinema vérité look deep inside the long-troubled Oakland Police Department as it struggles to confront federal demands for reform, a popular uprising following events in Ferguson,…
Junun
Junun
Paul Thomas Anderson joined his close friend and collaborator Jonny Greenwood on a trip to Rajasthan in northwest India, where they were hosted by the Maharaja of Jodhpur, and he…
Roger Waters: The Wall
Roger Waters: The Wall
A concert film that the former Pink Floyd singer-songwriter made on various tour dates between 2010 and 2013, when he was playing his former group's 1980 double-album in its entirety.
Beyond The Edge
Beyond The Edge
A 3D feature film about Sir Edmund Hillary's monumental and historical ascent of Mt. Everest in 1953 – an event that stunned the world and defined a nation.